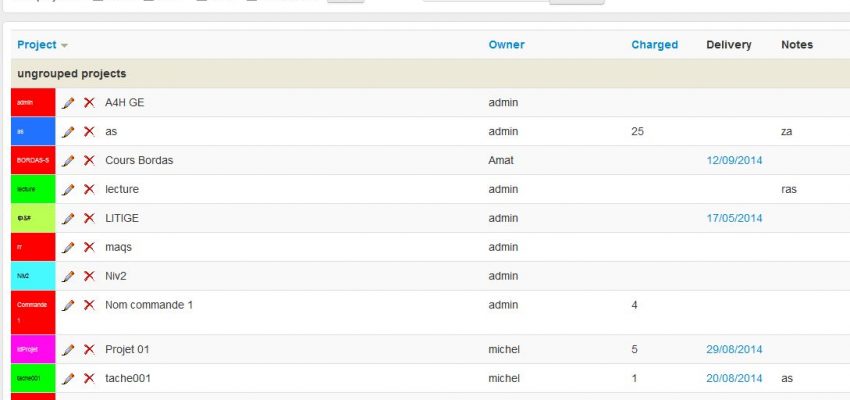 Project management involves the implementation of a solution adapted to the management of resources. Our online management solution allows us to support you in realization of your projects, assignment of tasks, monitoring of progress, respect of the deadlines,  delivery of the key elements.
Our project management tool provides transverse visibility by crossing your projects and your staff. Each task is therefore associated with a project and a person, and allows a detailed planning within the team.
SOPlanning includes a Gantt chart, indispensable in the conduct of some projects, with milestones and successive stages. This data visualization provides the project manager with optimal planning view.
The various task management tools
A task management software can take many forms: some use Microsoft Excel, Microsoft Project, Gantt Project, Asana or Zoho. We believe that SOPlanning can give you more flexibility in project management:
the tool is accessible from anywhere (smartphone, tablet, computer) at any time
the display of information is clear and simple: no need for long training to understand the operation
the heart of the tool is based on years of experience in supporting companies on their planning issues
intuitive operation ensures immediate efficiency: setting up a tool and filling in tasks should never be long!
With these qualities, our project management tool can help you determine the critical path to take to deliver your projects on time and optimize human resource management or material resource management.
More generally, project management is represented in various forms: V-cycles, agile methods, etc. A good methodology is based primarily on project management software adapted as needed. The downloadable version of SOPlanning as the pro version responds to project management issues that we encounter on a daily basis and allows more efficient project management:
Planning
Visibility in project progress
Collaborative sharing for greater transparency
Time management, meeting deadlines
Reporting and Task History
Measuring efficiency and productivity
Validation of billing deadlines
These points are those that systematically pose daily problems in project management, when the teams of a company are located in different locations or even different countries, and do not necessarily communicate effectively between them. The establishment of a tool common to all is the only solution to facilitate the operation of the whole.
The critical path in a project
More generally, the problems also affect personnel management: a project follows a critical path, but the optimization of human resources and the key to any business. SOPlanning helps to see in a few seconds the task list, who does what, on what project, and when. You can represent the holidays by a dedicated project and thus combine the tasks and absences of your employees in a single tool.
Managing a portfolio of projects is of course a sensitive subject in every company, relying on a reliable tool is important. Too many companies still use inappropriate tools or too heavy, or simply work on paper, and penalize the overall efficiency.